English
Overview
English learning focuses upon three key areas: Reading, Writing and Speaking & Listening. Learners also develop skills of reflection and self-evaluation so that they are able to identify areas for improvement and become more self-aware. English classes are arranged in mixed ability groups throughout the five years; within this context, learning is personalised so that each young person can unlock their full potential.

KS3
Learning in Cohort 7 and 8 is maximised through the use of questions, guidance and support.

Learners' interest in each new area of study in English is ignited through a series of exciting sessions designed to spark their interest and curiosity. Over the two-year programme, learners explore a range of texts which include plays, poems and novels as well as non-fiction and media.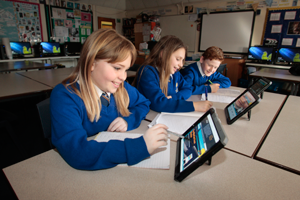 Learners are provided with the opportunity to read and write creatively in a range of contexts that allow them to use their imaginations, develop arguments and write and speak both informatively and analytically.

GCSE
English Language GCSE
Learners study towards two exams which take place at the culmination of the course; each exam is worth 50% of the course. There is no controlled assessment or coursework. Every learner must also complete a Speaking and Listening presentation, although this bears no formal weighting in the GCSE outcome, it is an essential part of the course. Learners are given the opportunity to complete this in cohort 10 and to repeat it later in the course if they wish to improve their result.

Learners' study will draw upon a range of texts as reading stimulus and engage with creative as well as authentic and relevant contexts. Learners will have opportunities to develop higher-order reading and critical thinking skills that encourage genuine enquiry into different topics and themes.

Learning is designed to ensure that learners can read fluently and write effectively, demonstrating a confident control of Standard English in both written and speaking contexts. Learners are taught to use and decode figurative, persuasive and explanatory language and to comment insightfully on texts through close analysis

English Literature GCSE
Learners study towards two exams at the end of Cohort 11 which are worth 40% and 60% of the course. There is no controlled assessment or coursework.
The texts they will study are: 'A Christmas Carol' by Charles Dickens, 'Macbeth' by William Shakespeare, 'An Inspector Calls' by J.B. Priestley and the AQA 'Power and Conflict' poetry anthology. Learners will also study a range of other poetry, both contemporary and pre 20th century, in order to prepare them for the 'Unseen Poetry' component of the course.